Get More From Your Business With The World's Number One Business Coaching Firm
What do you want from your business?
More profit?

More free time?

A more effective team?

Or do you even know what you want from your business?
Business Coaching with ActionCOACH Harrogate can help you achieve the results you desire
If you don't benefit, you don't pay. We do!
As long as you make the good-faith effort, do all the required work assigned to you and agreed by you, attend coaching sessions, events and workshops, and complete your committed decisions and assignments by the agreed-upon dates – you will see your business improve.​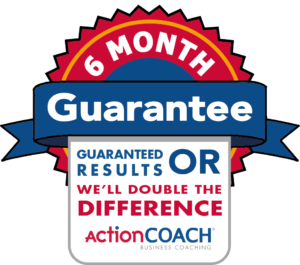 We really are

 

that confident in our approach to coaching and

our

systems.
We've seen it work on countless occasions; we know it can be done. All you need to do is get up and do it. You literally have nothing to lose, and everything to gain taking your business from good to great. With this 6-month guarantee, the worst that could happen is that you end up increasing your profits just enough to pay for your business coaching.
Rory Pratt, Managing Director of Pratts Pods:
"The most valuable thing I've got from working with ActionCOACH has been accountability, the support and being backed 100% with everything I've done."
Nic Till, Manager Director of Riverhead Coffee:
"It's given me the confidence to be able to plan and set myself goals for the future that I would probably never have aspired to do previously."
Mick Harris, Managing Director of Evesham Trade:
"I didn't know anything about ActionCOACH, I'd heard through a friend of a friend and just thought it might obviously benefit us as a company and we set out a plan. We set out our goals for the quarter and we work on them."
Alexandra Orme, Managing Director of Space and Matter:
"ActionCOACH taught us to be aware of everything that's going on in your business and when to sit back and allow other people to do the work for you that you know you're employing them to do."
Get In Touch
How Can We Help You?
Send a message
Contact info